Michelle Lundy of "Making It As A Middle School Teacher" has the neatest link up going on that really is inspiring.
I think it's great to see what each of us has decided to aim for in the upcoming year as well as to think about what we'd like to accomplish personally and professionally in 2013!
"A YEAR-IN-PREVIEW"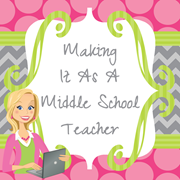 I hope you take a moment to see what various teachers (who are also women, men, mommies, wives, girlfriends, sisters, brothers, daughters, etc.) have chosen to share with you from their list of things to achieve/see/do/create/etc. for this next year! You can view all posts of those participating by clicking above image which will take you directly to the linky party!
Thanks to Michelle for such a great idea to start off the new year!
Happy new year to all of you!
What's your biggest event, goal, test, hope, wish for next year? Share below~